"WALK ON"
IS OUR MENTORING PROGRAM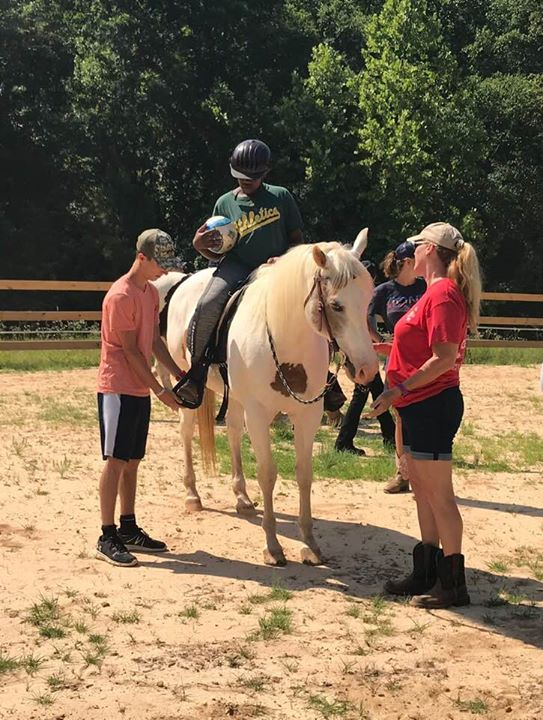 Youth are invited to come just as they are with no expectations. Mentors, who are also Certified Equine Specialists, will greet all youth upon arrival to begin their 90 minute session. This program can be provided one on one or in a group setting. The Mentor's goal for each session is to instill hope and provide an atmosphere for personal growth and development. The equines naturally act as big mirrors, thus teaching the child much about relationships. (Kids ages 12-18 and up to age 21 in DFCS custody) 
Horses react to human behavior much the same way that another person will. They have historically been trained with harsh methods that cause them to submit out of fear. Natural horsemanship teaches a horse to submit because trust has been created between the human and the horse. We work alongside the child in the round pen with their horse to show them how to lay the proper foundation for a trusting relationship. Respect, boundaries, body language, and leadership are a few things practiced in this human-horse relationship. It is an amazing experience that is transferred into their everyday lives. (We do not claim to do therapy in our mentoring sessions, but the horses are natural therapists)
Session Components:
Working with the horse from the ground (catching, leading, grooming, working in the round pen using natural horsemanship methods to create a horse-human relationship, hoof care, bathing the horse, etc.)
Riding the horse (including saddling and bridling)
Rhythmic Riding (Mentor leading horse while rider sits bareback both forwards and backwards in rhythm to music)
Horse Painting (our horses are gentle and large enough to become a giant canvas)
Blind Folded Game (Youth is blind folded and leads his horse from the ground through obstacles under the direction of his peer)
(86 equine assisted ground activities to choose from through our Horsework Education Guide)
​
"CHANGING LEADS"
IS OUR EQUINE FACILITATED MENTAL HEALTH PROGRAM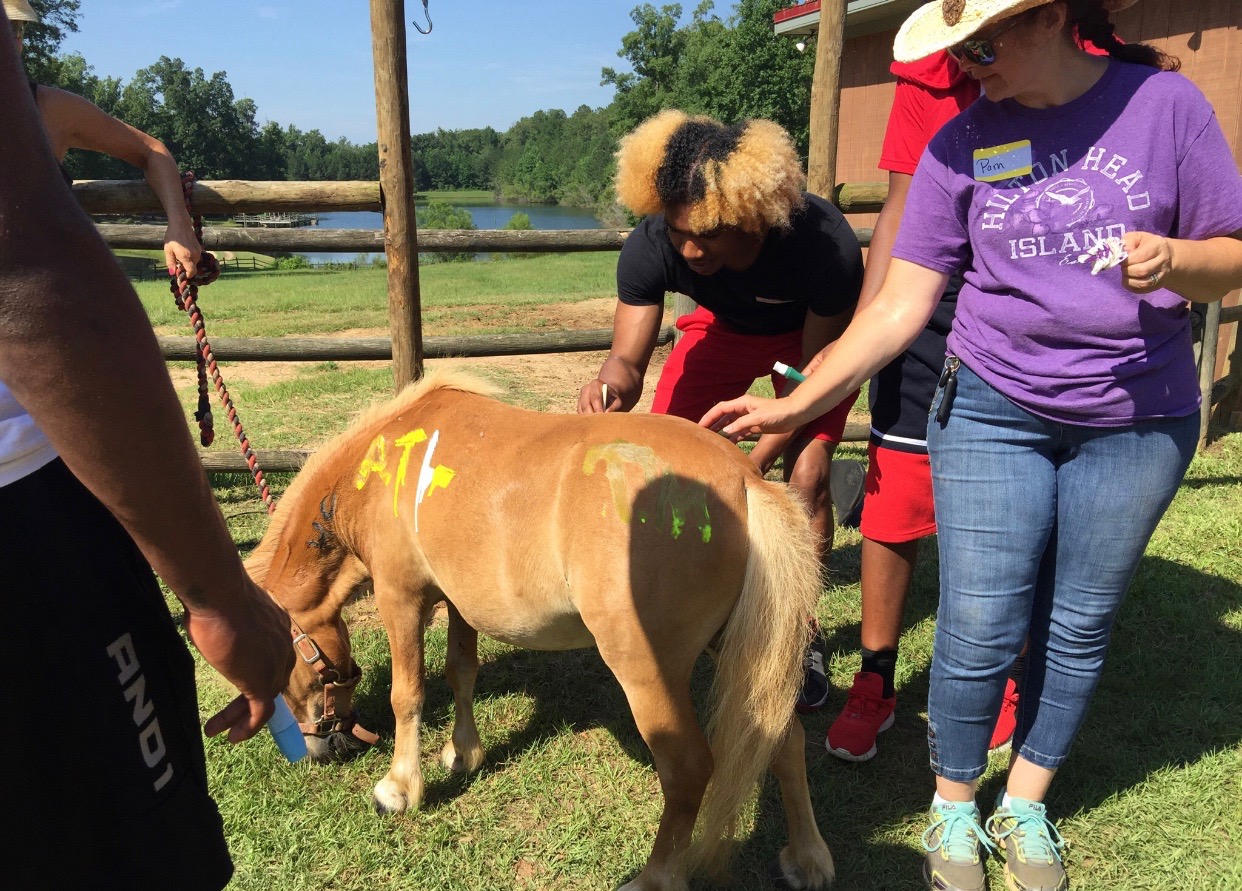 This program provides youth an opportunity to experience non-traditional outdoor therapy. Changing Leads is taught by Susan Jung who is a licensed mental health professional using the curriculum "Head 'em up, Move 'em out!" The curriculum is based on the Equine Assisted Growth and Learning Association (EAGALA). Participation is 100% on the ground and a solution-focused approach. The team approach consist of the licensed mental health professional, equine specialist, and the equine.
​When building a relationship with a horse, children tend to re-create familiar patterns of interaction they have learned, usually unhealthy patterns, and will typically treat the horse in the same manner they treat other humans. Horses quickly pick up on that behavior and will show the child how their behavior affects the relationship. The child then learns to change their own behavior and quickly sees a difference in the horse. Once the child learns to make changes within themselves to improve the relationship with a horse, they can apply this same principle to human interactions.
Freedom Reins is our Spiritual program that is taught at the conclusion of each session to all youth with a desire to attend. Each one is given a brand new personal leather bible. This program is held in a barn setting with experienced Christian leaders who facilitate the program and teach the Word of God. Youth leaders and others from the community are also invited to come speak and give powerful testimonies that encourage the youth. They are taught how to use their bibles and each receive prayer. The Spurs of Hope team have found this to be the time when deep relationships are formed between the youth and their Mentors.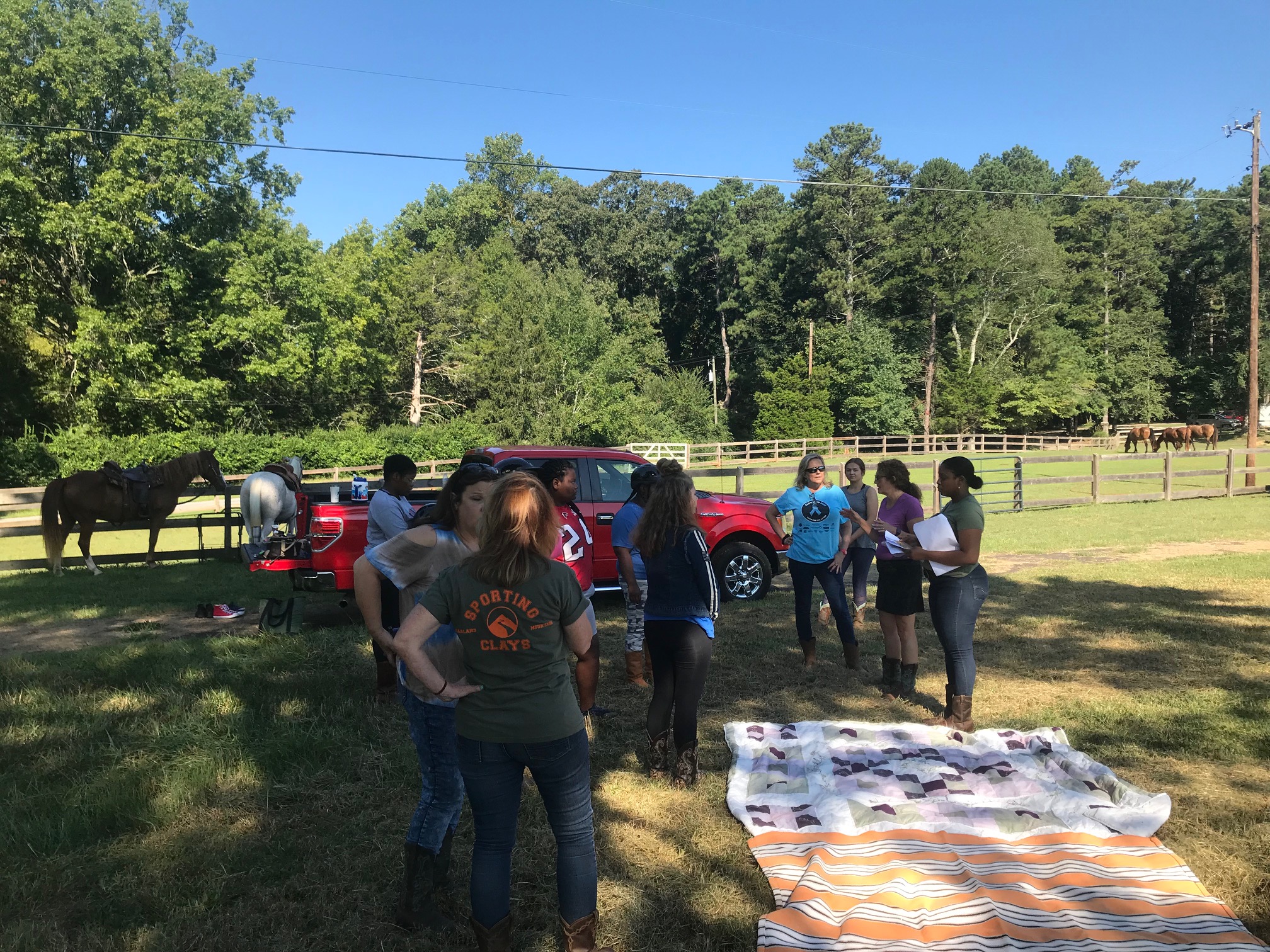 This program is offered to women in need of refreshing from life's journey.
It is offered in group setting only. The ladies participate in four therapeutic sessions with specific activities designed to work with the horses. It is followed by eight sessions of Grief Recovery taught in a rustic or outdoor setting for those who desire to continue.

The equine sessions are taught by Certified Equine Specialists in Mental Health & Learning or Professional Equine Trainers. The Grief Recovery classes are taught by a Certified Grief Recovery Specialist.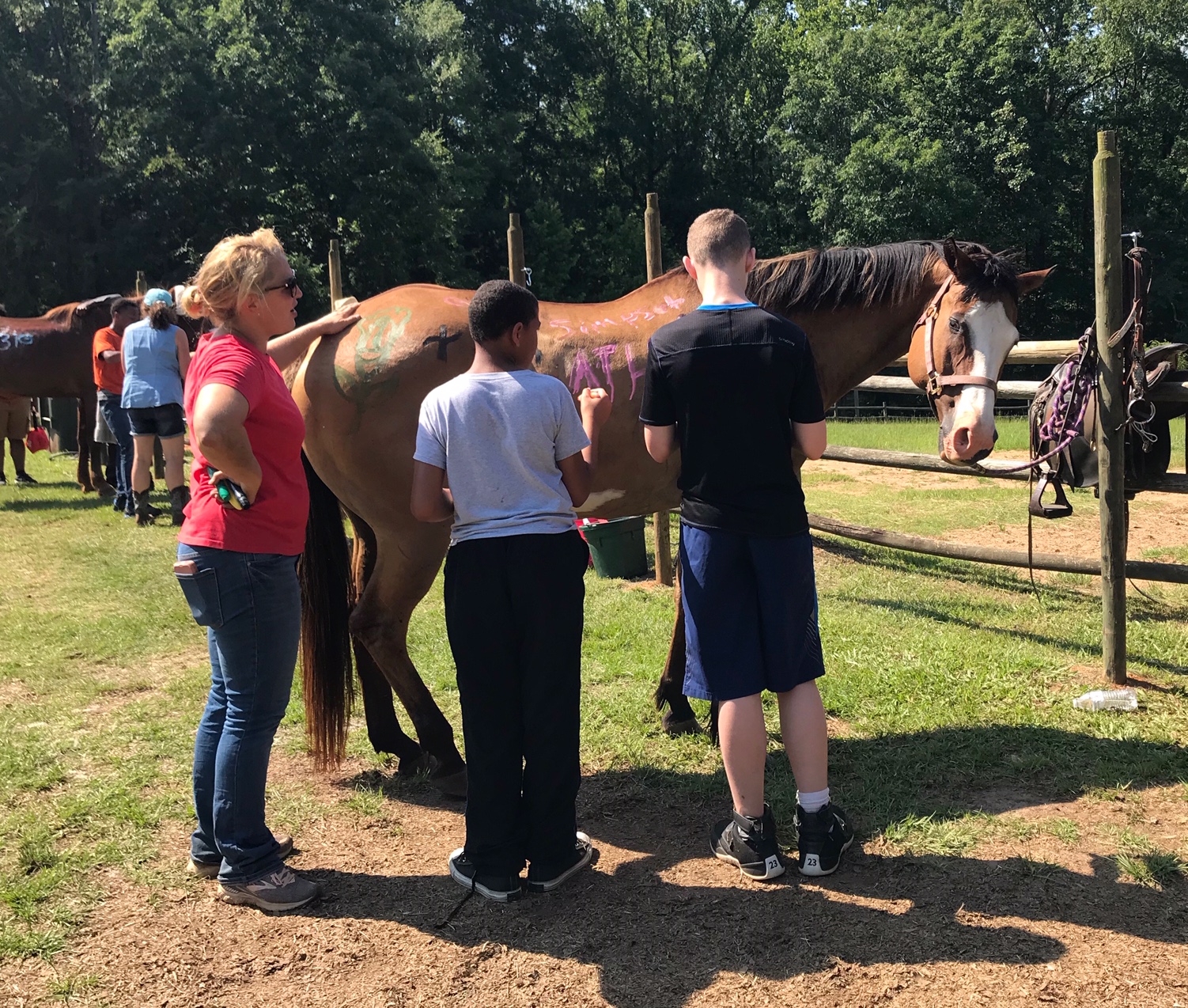 Designed to work in collaboration with the Department of Juvenile Justice and Cobb County Juvenile Court Services.
(Program currently under development)
​​​​​What is Equine Facilitated Mental Health?
(licensed mental health professional must be present for this session)
Equine Facilitated Mental Health (EFMH) is an experiential form of psychotherapy that involves equines. This is a fast-growing discipline in the equine industry. PATH Intl. provides standards of professionalism and safety for people working in this discipline. The equine is a critically important partner in the work of EFMH. The equine's prey nature and intense sensitivity to subtle changes in their environment make them perfect partners for professionals who teach a wide range of life and coping skills. The concept that horses might be helpful or healing to people struggling with mental health issues is based on the idea that horses (as domesticated prey animals) are extremely sensitive to changes in the human being (as a predatory creature). Due to their sensitivity, horses react and respond to people differently based upon the person's emotional state. Since we know that emotional states in human beings also impact our physiology, it only makes sense that horses can smell or sense those changes. The horse acts as a large biofeedback machine, providing the client and the therapist with information regarding the client's moods and changes within those moods. If a client arrives anxious the horse will act and respond one way. If the client is able to reduce his or her anxiety, the horse's behaviors will also change. This provides a plethora of information and skill building opportunities for both the client and the therapist. For more information go to www.pathintl.org or www.eagala.org
​​​What is Equine Facilitated Learning?
In an educational setting, horses and the lifestyle that goes along with maintaining horses, provide opportunities to teach critical life and communication skills. Horses mostly use non-vocal communication and thus are wonderful teachers to help us better understand and learn how our non-verbal communication might be impacting or influencing others in our lives. Horses also demand that we are aware of our surroundings at all times. In order to stay safe around horses we must be observant and present in our bodies. We have to listen to each other and to the horses. We have to stay focused and attentive. To care for horses takes dedication, time, and effort and our clients can learn a strong work ethic that may transition back into their daily lives. Furthermore, clients gain self-esteem and self-confidence while learning how to work with such a large and powerful creature. In all, horses provide us with a way to see our internal landscape and modes of operation exposed. They offer us humility, compassion, and challenge all critical elements to supporting self-growth and self-awareness. For more information go to www.pathintl.org or www.eagala.org.